First post in a new blog... it's like a blank canvas really. Unlike my other blog though, this one is about creativity, rather than how my own lack of sleep is hindering creativity.

This blog is for me to post ideas, comments and pictures of items I want to start, am halfway through, have completed and also inevitably (for a shopaholic) things I have bought. There will be wool, knitting, fabric, sewing, embroidery, and probably just a few snaps of modern cloth nappies thrown in for good measure.

It's all good! And it is all an outlet of some form.

Here is my current list of -gotta get to it- items. (In no order of priority)

Mums pistachio alpaca hat and scarf - finished and posted but yet to arrive and needing follow up

Miss B's pistachio alpaca daisy embroidered wrap dress - I've started it? But thats about all I can say there

TOT's custom set, wrap dress and soaker with matching embroidery - Wool is dyed, and dried, and ready to be wound into a ball to begin

Mr Mayhem's Posmerino longies - I've bought the wool and it's been sitting there for a month!

Miss Mischiefs longies and hat set in Monster Knit's 'Turkish Delight' wool - as above - wool is bought and languishing within the stash

Mr Mayhems shorties in Monster Knits 'Artic Forest' colourway - done! pics below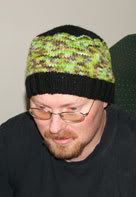 Calorimetry for myself in 'Passionfruit' mis dyed wool -
done, finished this afternoon - Got to say fabulous quick knit for ~squeezing~ in between projects, and very useful. Also the model this one is on - she's bloody stunning! *chuckles*