I know, I know, long time no post and all the jazzamuffin.
Short Snacks!
*New hair - peroxided and dyed vampire red bwahahahaha. Love it!
*Have joined Ravelry and am loving it. So many cool things - so few needles and hands to hold them. Anyone interested will find me under the name of FiestyWench.
*Mayhem and Chaos is taking a very. vey. very. long time to get going, due to low time, low funds, the silly season being upon us and all that usual stuff. Hoping to look at it with fresh eyes in the new year!
*New hobby (like I didn't have enough) sewing needle rolls! Will be available on Yarn Collective soon :) Will post a link in right hand panel once they are up.
*Some finished objects for the meantime:
The tomato / strawberry beanie - needs more length added to the pattern in my opinion but looks cute and goofy anyways.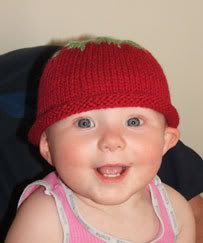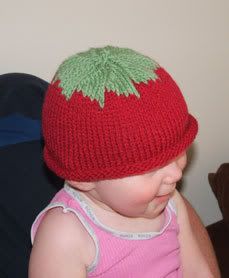 Debbie Bliss shrug, adjusted for three quarter length sleeves and in a much smaller size than the previous one I made - I had no idea the pattern was so generous, but this one is a much, much better fit.

Current WIP's are a knitted bucket type thing in Sean Sheep wool that will be felted and used for.. something. Deoending on size, either a knitting basket thing or storage for kids rooms. Also A long scarf done in 100% silk 4 ply, in a variegated red colour way. It IS lovely, but it IS taking me forever.
Other than that we are currenty working on Master Mayhems diet, to see if we can make him a little less.. errmm.. well, Master of Mayhem really!
If I don't update again before then I wish all of you a very happy and healthy christmas and new year! Enjoy the awesome food!